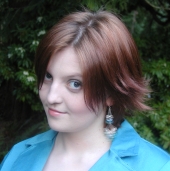 Tasha
This is my daughter, Tasha. She's 21. Egad, I must be old. She is also rather adorable, as you can plainly see. Tasha (a.k.a. Boo, Monkey, Monster) is my bestest and only girl. My one unquestionably fabulous contribution to the world. Natasha Jade Croydon was born October 1, 1984, in Everett, WA. Upon exiting the womb (after 22 hours of torturing her mother), Tasha gave a little sigh and then looked about at the world with her huge blue eyes, blinking at the bright light. I fell in love with her and have been fascinated and blessed by having her in my life ever since.
Tasha loves music and is an accomplished vocalist, having studied music most of her life, most recently at Edmonds CC. She spent two years in the wonderful jazz ensemble Soundsation. I love it when she helps me with music with her theory and sight reading skills. Singing with Tasha is the best thing ever. As Seattle Unity music director Erin McGaughan put it, we have a spooky blend.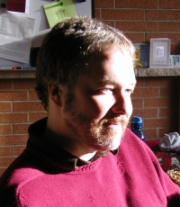 Conal

Here's my sweetie. Isn't he a handsome rascal? I met Conal via www.match.com. Our first date was a half-day silent meditation retreat. Yes, I said silent. We didn't speak but the energy was seriously sparking, let me assure you. I remember the first moment I looked at Conal, which was when he opened the door at eight o'clock on a Saturday morning when I showed up at the aforementioned retreat. My memory is of a tall, handsome man filling the doorway. There was no resisting that big smile and those twinkly eyes.
That first date was on January 3, 2004. It ended up lasting the whole weekend, and we've been pretty much joined at the hip since then. I've learned a tremendous amount from Conal about relationship and about myself, stuff that I don't know how I would have ever figured out on my own. At the very least, it would have taken a lot longer! Conal moved in with me in April 2004, and we now enjoy a cozy life together, spending way too much time on the computers, teaching NVC, dancing, watching movies, spending time with family, etc.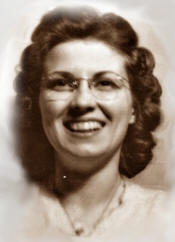 Rose Anita Berry

Here's my Grandma, who the family called GG after her first great grandchild, my daughter, Tasha, was born. Grandma passed away Tuesday, January 2nd, 2007, after a long struggle with Alzheimer's Disease. I'm grateful I got to hang out with her the night before she died. My mom brought her photos for her bedside, and we sang songs in harmony for her, especially Oh Tell Me Why. We also giggled and played with our electronic toys. Grandma was sleeping, breathing fairly heavily, but seemed peaceful. She smiled now and again. We decided to take credit for the smiles.

My favorite memory of Grandma is of her reading storybooks to me and my brother, Scott, when we were kids. She had a low, breathy chuckle that I enjoyed. A more recent memory that I love is of visiting in her last apartment. Her short term memory was spotty, at best, though she still remembered all of her family and was so happy to have us visit. The time I'm thinking of she asked me to pop over to the store and buy her a newspaper. She insisted on paying for it and spent some minutes hunting for her purse and then handed me her coin purse. Off I went, and when I returned with the paper she wanted to give me money because she'd forgotten that I already had her coin purse. I said, "Ah, coulda had you there, Grandma!" She cracked up and said, "Yeah, you could be rich by the time you leave!" Funny GG. Farewell and fly free, whole again and at peace. Namaste.